AmZetta Technologies Corporate Profile
AmZetta Technologies was launched in 2019 representing the fourth activity of technology guru Subramonian Shankar, known as Shankar to the vast majority of the IT World and Silicon Valley. Shankar formed AmZetta as a spinoff from American Megatrends (better known as AMI). Shankar founded AMI in 1985 and led it as the President & CEO, till he stepped down in 2019, to become the largest BIOS and Remote Management vendor in the world. There is a high probability that the computer you are currently using to view this website is running an AMI product, most likely the AMIBIOS. Shankar has architected and developed a plethora of technologies, both software and hardware, that have been deployed in millions and millions of computers and IT systems worldwide. From BIOS, Diagnostic Software, Digital Workspace Software, Keyboard Controllers, Motherboards, RAID, Remote Management Firmware, Storage (SAN & NAS), Thin Clients, Virtual Desktop Software (VDI) to Zero Clients. Shankar's companies have been granted more than 500+ US Patents on the technologies he has designed, developed and shipped.
Shankar started AMI with a vision to supply core technologies to the nascent but fast-growing PC industry. Investment dollars were hard to get in the 80s, a harsh reality of the times, that AMI was founded with zero capital investment. With empty coffers, Shankar carefully crafted a strategy to first stay afloat and then grow the company, by leveraging credits from vendors and getting customers to pay in advance for services and products, an approach that required technologically advanced ideas that compelled customers to open up their wallets and smooth execution. Shankar's first major break happened when Shankar chanced upon Michael Dell and convinced Dell that he could design the world's most advanced and best performing motherboard, a cache based 80386 motherboard, during a period when 80286 based motherboards were considered top of the line. Michael Dell's PC Ltd. based out of Austin, TX, (now known as Dell Computers) became AMI's first paying customer. This became the basis for a long-lasting relationship between the companies and Shankar's and Michael's companies have engaged in numerous projects over the past 36+ years.
Shankar's motherboard idea, first pitched to Dell, was a global hit. AMI motherboards became known for being the best performing motherboard in the industry. PC Magazine called it the "ubiquitous motherboard" because they found AMI's motherboard in so many different PC's they tested. While very popular in USA and Taiwan, users from far away countries like Peru, Brazil, South Africa, South Korea, India, etc., made the trip to AMI to purchase the motherboards.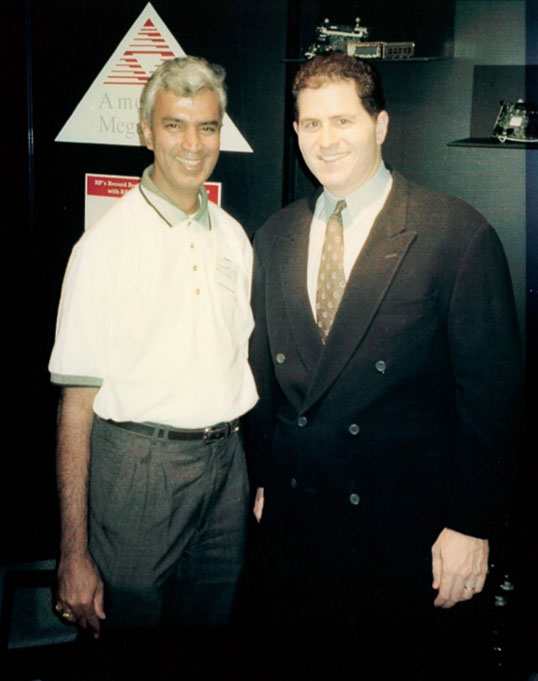 Shankar has had the opportunity to license technologies and sell IT products into all the major OEMs such as Apple, Microsoft, Google, IBM, Intel, Samsung, Huawei, Oracle, Cisco, Dell, HPE and so many more.
After a 34-year career at AMI, Shankar made the decision to step down in 2019 from his role of President & CEO. While Shankar remains Chairman of the Board at AMI, he shifted his day-to-day focus to help grow a new business, one I believe to be very timely given the paradigm shift we've all experienced as a result of the COVID-19 pandemic.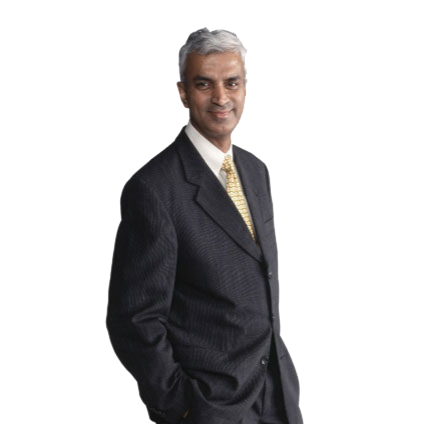 A Message from our CEO
I thank my many friends and business acquaintances for such fond relationships over the past 36 years. I have made some many lifelong friendships and look forward to carrying those forward within AmZetta. I look forward to helping companies worldwide implement Digital Workspaces within their organizations helping them obtain a greater level of security and network connectivity for their employees, vendors and consultants. From secure remote access to virtual desktop (VDI) and virtual apps and SD-WAN, I am very excited about AmZetta's cutting edge technologies and how they will immensely help organizations around the world.
Subramonian Shankar, CEO and Founder
Enter AmZetta
A Digital Workspace solution vendor, AmZetta provides remote workers with a fast and secure remote access to their data and apps from anywhere, anytime using any device. AmZetta's Digital Workspace solution includes a secure gateway (replacement for VPNs) that supports MFA (multi-factor authentication) and SSO (single sign-on), with robust reporting and analytics that gives the visibility needed to ensure remote workers remain supported and productive. The Digital Workspace solution goes way beyond what a typical VPN can provide, creating a truly secure environment at a cost that makes Digital Workspaces affordable for businesses of all sizes.
Headquartered in Norcross, Georgia, AmZetta has locations in the US, India and Taiwan to better serve our customers. The AmZetta team is comprise of senior level IT experts with an average of over 25 years of experience in leading technologies such as BIOS, Drivers, Firmware, Linux, Networking, RAID, Remote Management, Storage, VDI, Virtualization and WAN.
AmZetta boasts a large team of highly skilled engineers with centuries of cumulative experience innovating successful cutting-edge technologies. AmZetta's product line includes Application & Desktop Virtualization and Secure Access Gateway & Identity Management for Digital Workspaces, Remote Patient Monitoring Cloud Platforms and Devices for Healthcare Providers, and SAN and NAS Data Storage Solutions.
AmZetta is dedicated to innovating high-quality technology products for our customers. AmZetta's software and hardware solutions are without parallel in terms of quality, functionality and support – placing AmZetta at the forefront of both existing and emerging technologies.